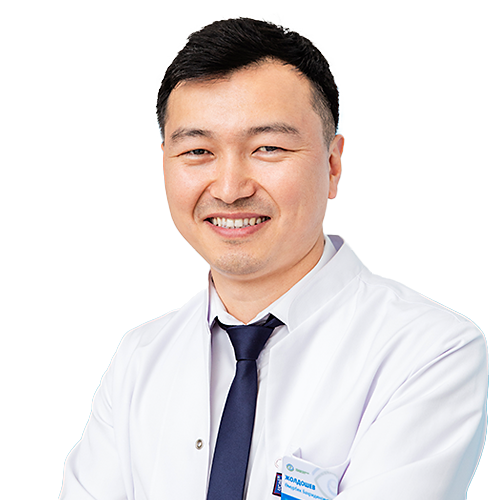 Zholdoshev
Omurbek

Bahridinovich
Medical director, refractive ophthalmic surgeon, doctor of the first qualification category, member of ESCRS
Education:
In 2014 he graduated from I.K.Akhunbaev Kyrgyz State Medical Academy. From 2014 – 2016 he passed clinical residency at I.K.Akhunbaev Kyrgyz State Medical Academy majoring in ophthalmology.
Labor activity:
He worked as an ophthalmologist in the Department of Eye Trauma, BNITsTiO. The main areas were – surgery of the anterior part of the eye and intravitreal administration of drugs. Introduced outpatient and inpatient treatment of patients with eye injuries.
In combination, he worked as an assistant at the Department of Eye Diseases of the Asian Medical Institute named after Tentishev.
Responsibilities:
Takes part in the scientific and practical conference of the Society of Ophthalmologists of the Kyrgyz Republic and regularly participates in international conferences.
Scientific and practical work:
In 2015 — IV Central Asian Conference on Ophthalmology, Issyk-Kul.
In 2016 — 6th International Glaucoma School of Ophthalmologists of Kyrgyzstan, Bishkek
In 2017 — participation in the international conference of ophthalmologists "White Nights", St. Petersburg
In 2018, he completed advanced training in the direction of "Laser technology in ophthalmology" at the clinic "Astana Vision", Astana
Participated in the project of KNKP and the Swiss Red Cross "RAAB Kyrgyzstan 2017" (BOPS-rapid assessment of preventable blindness)
2019 — advanced training on the topic "Excimer laser surgery of the cornea using a femtosecond laser" on the basis of "Interbranch Scientific and Technical Complex "Eye Microsurgery" named after Academician S.N. Fedorov", Moscow
2021 — advanced training on the topic "Laser technologies in ophthalmology" at the National Center for Medical Education, Astana