VITREORETINAL SURGERY
Vitreoretinal surgery helps with diseases of the retina and vitreous body
WHAT IS IT?
Vitrectomy this is a high-tech procedure, the purpose of which is to remove the altered vitreous body and pathological changes on the retina. In many diseases, it is the only way to save from irreversible blindness.
It should be kept in mind: Retinal detachment is not treated with drops, pills, or injections. The only way to save vision is through vitreoretinal treatment.

Indications for vitrectomy:
Retinal detachment and breaks
Hemophthalmos (hemorrhage into the vitreous body)
Macular holes, vitreomacular traction syndrome
Diabetic retinopathy
Complications after cataract surgery
Destruction of the vitreous body, significantly reducing vision
Foreign body in the vitreous cavity, retina
Features of vitrectomy:
Combined anesthesia
Combined anesthesia is used, taking into account the type and duration of the treatment.
Feature 1
Individual duration of treatment
Feature 2
Retinal detachment, diabetic retinopathyvarious vitreoretinal pathologies in the structure of visual disability in patients in the world occupies a leading position. The greatest danger is diabetic retinopathy (retinal damage), being the main cause of a progressive and irreversible decrease in vision up to complete blindness.
For the surgical treatment of this most complex disease, a vitrectomy operation is performed, the purpose of which is to remove the altered vitreous body and pathological changes in the retina. The operation is performed under combined anesthesia.

The Constellation Vision System is the latest development of Alcon (USA), one of the leading manufacturers of equipment for Ophthalmological  surgery.
Ophthalmological  system Constellation Vision System is used for operations with various pathologies of the anterior and posterior segments of the eye
Benefits and Features

Constellation Vision System

:
This equipment is recognized as one of the best in its class and is used by leading clinics in the world, including in our center
High speed combined with maximum precision
A controlled cycle of manipulations allows the Ophthalmological surgeon to work in the closest possible approximation to the retina that exists today and effectively perform the most delicate and complex procedures.
Amazing precision of work is achieved through control using a new technology - a special patented torsion handle OZil Torsional Handpiece.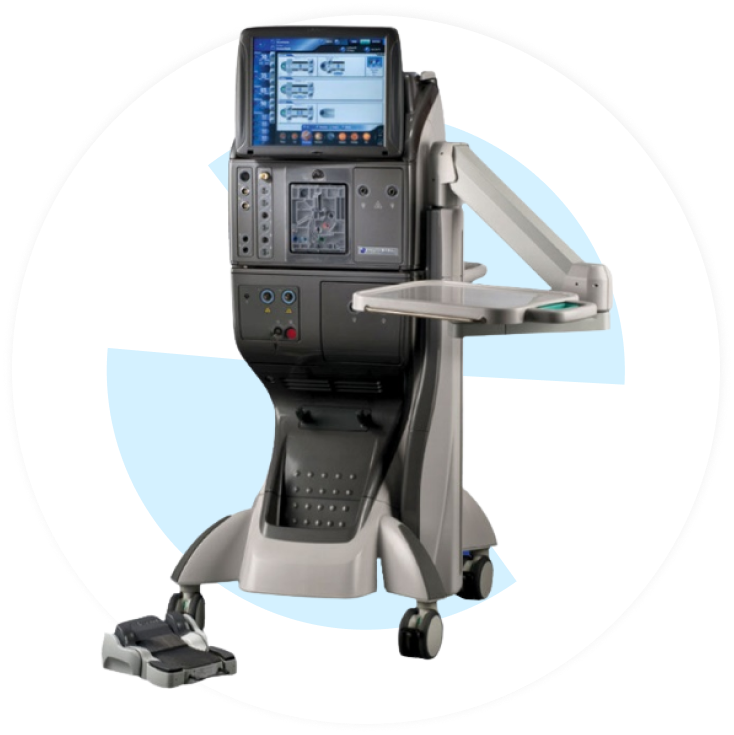 The ability to enter all the most accurate settings for the individual characteristics of the patient. The system allows you to enter individual settings, and automatically recognizes connected devices.
The system allows to ensure the stability of intraocular pressure (IOP), which is controlled by a special sensor. In real time, it monitors all changes in IOP and provides the necessary response.
Before the procedure it is necessary to undergo a diagnostic
Information Consent
Agreement